VIDA MIND: THE BEST OF MENTAL TRAINING FOR TENNIS
Tennis is a mental game – of course you know this, but what you don't really know is what to do to feel, think, learn and compete better. How to use your mind better? How to manage your emotions better on the court during competition but also during training? That's what Vida Mind does. I'm Damien Lafont, director of Vida Mind, Certified Mental Trainer. I am based in Melbourne, Australia. I've been trained with the best sport psych in the world, and part of the Mental Training Inc. Team working with the best athletes all around the world.
Vida Mind is the best of mental training applied to tennis. I use the best of Mental Training science, techniques and technology to help you to think, feel, and play better on- and off-the tennis court.
To help tennis players becoming the best players they can be and to have a fulfilling tennis and sport experience, I use 3 main tools: The Mental App, the Certified Mental Coach online course and the Parent Mental Trainer
I'm working 1-on1 face to face or online (Skype, WhatsApp, …)
contact me to book a free intro session 0435 819 262
MENTAL APP
MentalApp® is the most complete mobile mental training app designed to help athletes and performers develop mental toughness.
Teaches core mental skills through short videos & audios
Provides tools to practice mental skills for habit development (relaxation, awareness, imagery)
Provides tools to track progress (monitoring chart, written goals, journal, roadblocks, schedule & results)
Provides automated rewards, feedback and reminders
Enables coaches and Mental Trainers to oversee & provide accountability with an elegant dashboard
Enables Mental Trainers to provide effective mental trainin to small, medium & large groups
Enables coaches and Mental Trainers to send individual and group messages in-app
Works on every type of computer and mobile device
Simple toggling between English & Spanish
Works anywhere in the world
Is extremely affordable
Screen Shots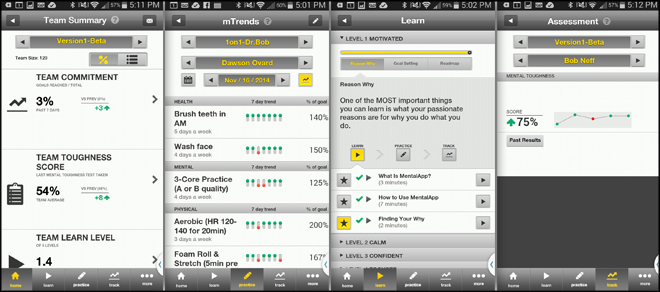 Learn more about the Mental App here
CERTIFIED MENTAL COACH (CMC)
The Certified Mental Coach course is the first fully online, Flash-based, mental skill certification system anywhere in the world.
It is designed for business managers and athletic coaches who would like to add mental skills training and coaching concepts to their existing knowledge base. It has been created by leading sport psychology teachers and trainers, and designed for the busy professional who wants useful, effective information.
Those who complete the course earn the "Certified Mental Coach" (CMC) designation. The course takes about 14 hours (and does not have to be completed at one sitting!). When the online Final Test is passed at an 80% level or higher, the CMC designation will be awarded. The course cost is $295pp (USD) and there are discounts available to schools or organizations who meet minimum group sizes.
Learn more about the Certified Mental Coach online courses here
PARENT MENTAL TRAINER (PMT)
Parent Mental Trainer (PMT) was written for MTI by the lead researchers at Michigan State University's Institute for the Study of Youth Sports. PMT was created in response to the overwhelming need in the sports industry for parents to work with their child and coaches during the training process.
Parents want what's best for their child but often are not sure how to make that happen within the sport realm. PMT teaches ideal parent roles, how to be a positive support, and how to control emotions while on the sidelines. For the first time, parents can be on the same page mentally as the coaches and athletes. The course pricing is $99 (USD)
Learn more about the Parent Mental Trainer here
If you want more info about the Mental app, CMC or PMT, contact me at [email protected] or 0435 819 262